Calling parents working near Nanyang Technological University (NTU) or in the vicinity of Jurong West, you have to check out our newest preschool Raffles Kidz @ Surbana Jurong! We recently had an amazing Open House and we were excited to welcome new families in our centre as they explored our innovative facilities and understood more about our holistic bilingual curriculum.
Our new Surbana Jurong childcare centre is located within the new Surbana Jurong Campus to serve working parents in the Jurong West and NTU areas. Built in Jurong Innovation District, the Surbana Jurong Campus spans 68,915 sqm and embodies the Garden City through seamless integration between structure and nature, serving as a sustainable, people-centric and future-ready development with a vibrant ecosystem of enterprises.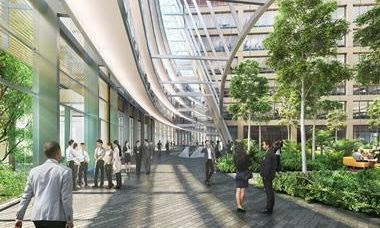 Cultivating a passion for lifelong learning lies at the core of our mission. Our preschool programmes are designed to ignite curiosity, foster creativity, and instil a love for learning in our children's young minds. Using an inquiry-based/Montessori approach, our holistic curriculum is structured to facilitate the acquisition of skills and knowledge, with an emphasis on critical thinking and problem-solving. At our Surbana Jurong centre, you will find a library corner with age-appropriate books, interactive learning walls to foster imagination, and plenty of spacious classrooms with an array of educational toys for exploration.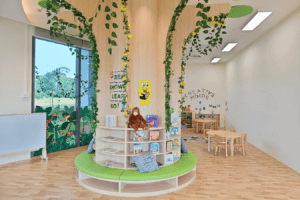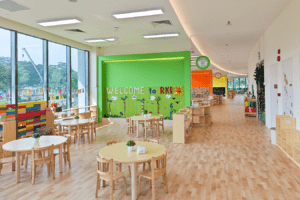 In our core module, we nurture our children's interest in the core subjects of English, Chinese and Mathematics. With an immersive learning environment where teachers carry out conversations in both languages, our bilingual curriculum caters to the holistic development of the whole child, with an emphasis on academic foundation, critical thinking, knowledge acquisition and problem-solving skills. Through the structured Montessori approach, our children are given room for independent and self-paced learning, which assists them in developing their language skills.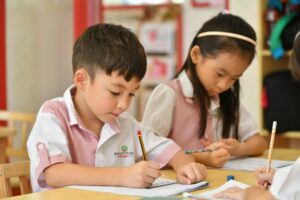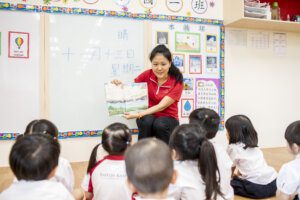 At our Surbana Jurong childcare centre, a wide range of group activities are also offered to promote teamwork and collaboration, allowing children to interact with their peers and adults in a supportive and encouraging environment.  Our purposefully built learning spaces also provide a safe and nurturing environment for children to explore and express themselves freely. Each classroom is equipped with age-appropriate materials and interactive tools that encourage hands-on exploration and discovery to nurture them into collaborative team players. There is even an outdoor playground to foster children's growth and development in social and motor skills.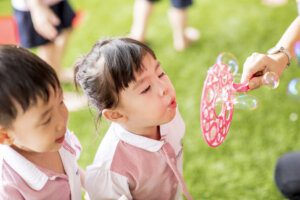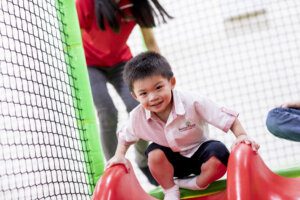 Book a school tour at our Surbana Jurong childcare centre or drop us a WhatsApp to find out if we are the best fit for your child today! Our liaison team will then be in touch with you to share more about our Raffles Kidz preschool programmes.
*Upcoming Open House on 2 Dec, 9am-1pm! Register now and enjoy savings up to $4,700 when you enrol during Open House!*