(30 Months – 4 Years Old)
For our children between 30 months to 4 years old, our Raffles Kidz Nursery programme provides a holistic and bilingual curriculum in a purposefully designed learning environment to cultivate lifelong learners with a thirst for knowledge and learning. During this age, motor skills, cognitive development and language are crucial to their development as they go from crawling to running, and babbling to sharing stories, in their years leading up to Kindergarten.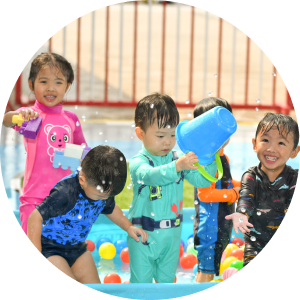 The Best Supportive & Stimulating Environment
It is important to provide a safe, supportive, and stimulating environment for children's continuing development. During the early years, children will grow rapidly in the five main areas of development: physical, cognitive, emotional and social, language, and motor skills. At Raffles Kidz, we have created an age-appropriate and engaging environment for them to explore and interact with their peers, thus encouraging language development, building confidence, learning more about their feelings and developing friendships.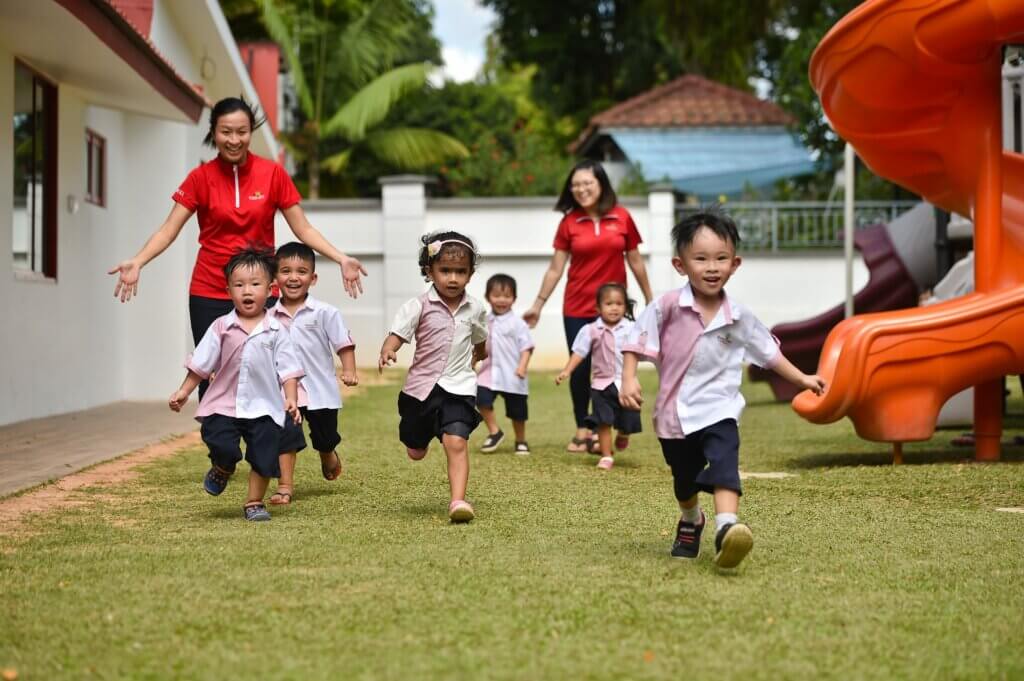 Nurturing & Caring Educators
Committed to developing the whole child, our qualified educators encourage children to be curious by providing opportunities for them to explore, investigate, and learn through active hands-on explorations. As such, our children are given the freedom to choose their activities based on their interests and needs, under the guidance of our educators. With increased mobility and the desire to be independent at this age, our well-trained educators will also guide them through their daily routines with the aim of developing their confidence and independence. 
Our Constructive Nursery Curriculum
Children between the ages of 2 to 4 benefit the most from age-appropriate and constructive activities that develop their physical, cognitive, and social skills. Our bilingual curriculum promotes holistic strategies that encourage our children to develop curious minds, think critically, and develop a passion for learning. 
Promoting Physical Growth
While children develop and grow at their own pace, a child's physical development is an important part of their overall health and our children are given ample opportunities to refine their motor skills in our safe and nurturing environment. Our programmes are curated with the aim to let our children learn through purposeful play as they begin to climb better, build towers with more blocks, and even start riding tricycles. 
Developing Bonds & Friendships
From ages 2 to 4, children learn more about themselves and their feelings and begin developing friendships with other children their age. As they learn how to control their emotions, express themselves, and work out problems under the guidance of our skilled educators, they will find themselves becoming more socially interactive and confident in making new friends and start forming strong friendships. Through our small group activities, they will also learn how to cooperate with their friends, take turns, and show affection for others. 
Building Language & Cognitive Skills
With better attention span and self-control, children at this age enjoy stories, songs and rhymes and are able to rapidly build their vocabulary and literacy skills. Through a variety of immersive and enriching activities, our children are taught the fundamentals of English, Mandarin and Mathematics using an inquiry-based approach to enhance their critical thinking and problem-solving skills. By nurturing their deep interest in these core subjects, our children will be able to build a solid foundation in literacy and numeracy that enables them to transition smoothly into Kindergarten.