Our Raffles Kidz Pre-Nursery programme provides a comprehensive preschool curriculum designed with the developmental milestones of toddlers in mind. In a carefully curated learning environment, a range of hands-on discovery and exploratory activities are facilitated to let children learn about the world around them. Children at this age will have more opportunities to explore their interests, make observations, and actively engage in social interaction.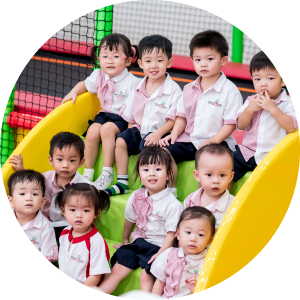 Providing the Best Learning Environment
Having a quality preschool environment is important as children learn best in a supportive environment where they feel safe to explore and learn. It also sets the stage for their future development and learning. At Raffles Kidz, our flexible and nurturing environment is built to meet the needs of toddlers by providing developmentally appropriate spaces to support child-led activities and spontaneous exploration while building strong relationships with our trained educators. Not only does it prepare toddlers for learning, but it also positively influences their level of engagement and social interaction.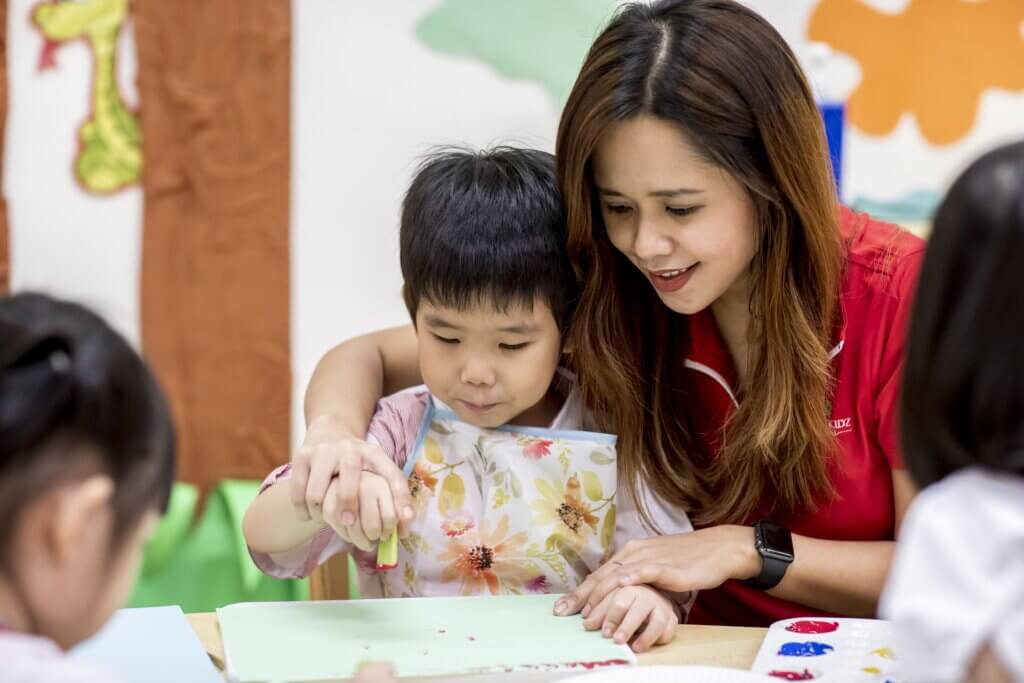 Responsive Trained Educators
To build a strong foundation during the early stages of a child's development, our qualified educators are trained to be active listeners to pick up and respond to the needs of toddlers from 18 to 30 months. Understanding the importance of a child's social and emotional well-being during their formative years, our educators encourage social interaction, support relationship-building, and offer positive guidance to help them navigate through their feelings.
Our Comprehensive Pre-Nursery Curriculum
With the aim to provide the best preschool experience, our toddlers get to enjoy a comprehensive curriculum that promotes his/her long-term development physically, socially and emotionally. 
Meeting Physical Milestones
By 18 months, most toddlers are keen to explore their surroundings independently. While there can be some variability in the milestones for toddlers in the same exact month, it is expected for them to grow and reach their developmental goals at their own pace. With our curated full-day pre-nursery curriculum, our children are given ample opportunities to discover, explore, and investigate in a safe environment while refining their gross motor skills. They will learn to feed themselves, get dressed and even start toilet training from as early as 18 months. 
Building Positive Relationships
Socialization is an important part of a child's overall development. With our team-based learning approach, our toddlers are taught how to take turns, share their toys, and interact with one another in our safe and supportive environment. Our dedicated educators are also there to guide our children to build strong, positive relationships by helping them resolve conflicts and understand their feelings using words to describe their emotions. 
Learning Through Open-Ended Play
At this age, children are likely to interact more with their environment and participate in activities they find interesting such as pretending to feed a doll, throwing or kicking a ball, or building small towers of blocks. To provide the best learning experience for our toddlers, our open-ended play module encourages children to learn through purposeful play. Activities are often child-initiated, allowing children to make choices among carefully planned activities. Our enrichment module such as Creative Artist, Gourmet Chef, and Culture and Drama, also offers our children exploratory experiences to develop their creativity and logical reasoning at the same time.