Kindergarten in Singapore
Our kindergarten programme is catered for children aged 5-6 years old. It is the last school year of a child before they graduate and enter Primary 1 in Singapore. Lessons are carefully planned to help each child be academically ready and confident to start on their new learning journey. During this critical period, our children develop specific skills like reading, communicating and listening. With an emphasis on being socially and emotionally ready, our nurturing teachers instil and cultivate independence in our children.
Book a tour to visit your preferred centre today!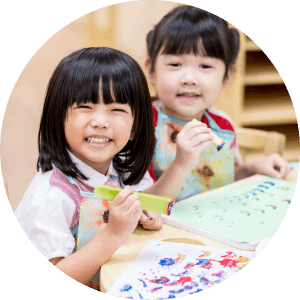 Bilingual Literacy Development
Our bilingual kindergarten curriculum caters to the holistic development of the whole child, with an emphasis on academic foundation, critical thinking, knowledge acquisition and problem solving skills. The immersive learning environment where teachers carry out conversations in both languages paves the way for children to become effectively bilingual. Children's language and numeracy foundation skills are developed best through the structured Montessori Method which allows room for independent and self-paced learning. Also, being proficient in more than one language is extremely important – especially in Singapore!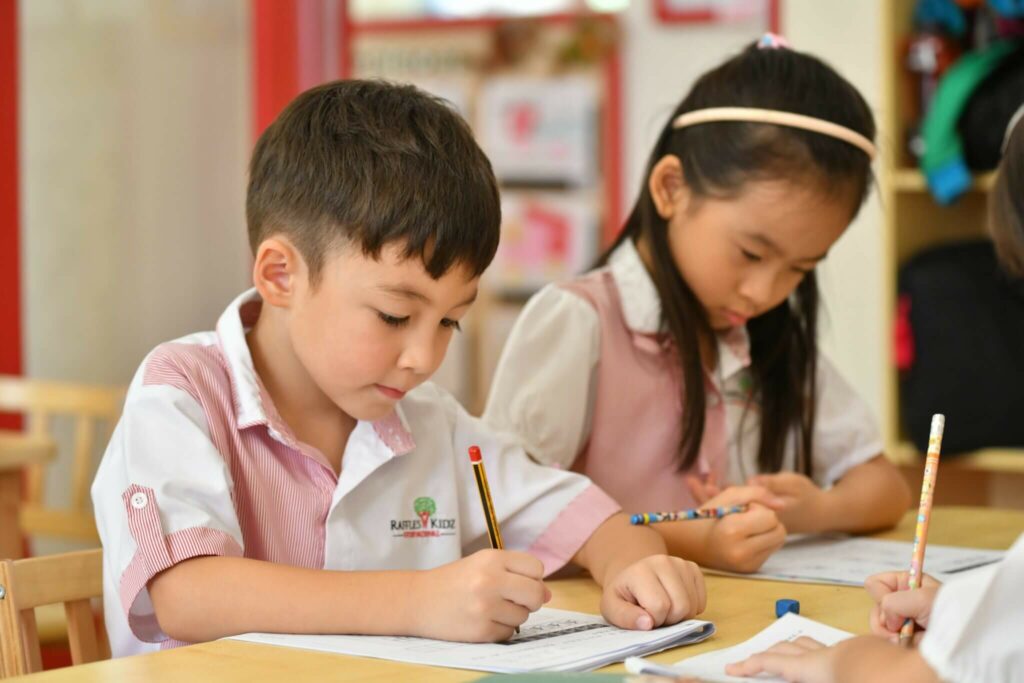 Our kindergarten programme helps to ensure a seamless transition into primary school in Singapore for children by building a solid academic foundation in literacy and numeracy. Our in-house programmes also offer fun and enriching activities designed to develop children's world perspective and social skills. Primary 1 is a huge milestone for children and starting your child's journey into formal education confidently will help them build a strong academic foundation towards a successful learning journey.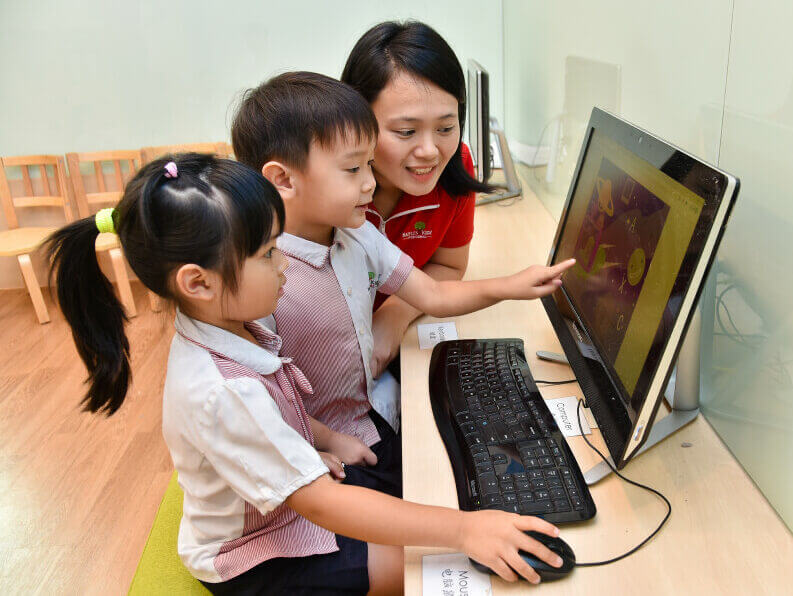 To ensure a holistic setting that is conducive to every child's growth and well-being, our school is designed to build on children's competence and autonomy. Social pods are specially designed to allow children the autonomy of exploring and socialising amidst the supervision of their teachers. Our safe and supportive environment encourages our children to engage in fun, meaningful and positive interactions with their peers.
Our Structured Kindergarten Curriculum
Our comprehensive, structured and interactive kindergarten curriculum is built to develop our children's social dispositions and help them acquire new skills and knowledge. We equip our children in the fundamental core subjects of English, Mandarin and Mathematics which are important subjects in the primary school curriculum in Singapore. Following the 4 pillars of our pedagogical approach, our children learn by connecting prior and new knowledge in a meaningful and stimulating environment.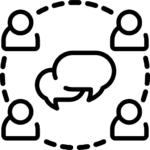 Immersion Model
Research has shown that the formative years of a child's life is the best time for acquiring speech and language skills. Immersion in an environment rich with sounds, sights and consistent exposure to the language helps children develop their language most effectively. This equips our children with skills in listening, speaking and writing in both English and Mandarin.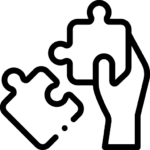 Immersion Model
At Raffles Kidz, a multi-award-winning
preschool in Singapore
, we believe that children are agents of their own learning. With this in mind, the Montessori Method involved child-led activities to encourage children to be independent learners. Similar to our
nursery school
and
playgroup
programmes, our kindergarten children work, develop and learn at their own individual pace. Through the use of hands on and concrete objects, our children progressively build upon their skill set while working towards having more abstract ideas.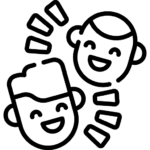 Project Approach
Our kindergarten children are engaged in a stimulating and inquiry-based environment. Dedicated teachers create the best learning experiences that are meaningful, inclusive and multi-sensory, to raise children's natural curiosity and interest in topics. This authentic approach to learning extends beyond the classroom to each child's home, the community in Singapore, and the world around them.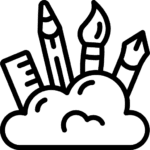 Enrichment Programme
Enrichment classes for children are learning experiences that go above and beyond what is possible in the traditional classrooms. At Raffles Kidz, we offer in-house enrichment programmes for our kindergarten children in topics such as Creative Arts, Gourmet Chef, and Chinese Speech and Drama. These enrichment activities are conducted by our trained teachers in Singapore. These activities stimulate and nurture creative minds in our children.
Our Kindergarten programmes aim to ensure a seamless transition into primary school by having carefully planned lessons for children to be academically ready and confident to start their new learning journey. Children will be engaged in innovative activities including outdoor excursions designed to develop their world perspectives and social skills.
We have two programmes: Early Dismissal (7am-5.30pm) & Full Day (7am-7pm). Fees are before GST.
For Singaporean children, a basic subsidy of $300 is given to working mothers/single fathers who work a minimum of 56 hours per month and a subsidy of $150 for non-working mothers/single fathers