Preschool is an increasingly important part of every child's early development as they are designed to support children's social, emotional, and cognitive development while preparing them for primary school. It has also been identified as one of the key factors determining a child's future academic success. However, this expanding sector faces its challenges. Unlike fast-food chains that can be replicated easily, quality education requires more than just expanding physical locations.
The variety of challenges includes balancing affordability with quality education, finding and retaining qualified teachers, ensuring children's safety and health, managing parental expectations, and adapting to changing community needs. Yet, amid these challenges, Raffles Kidz International is opening up 3 new centers in 2023 as it employs a strategic and sustainable solution to some of the industry's challenges.
Other than offering a holistic bilingual curriculum adapted from the Montessori and Inquiry-based approach, they prioritize teachers' retention through adequate recognition and professional growth development. To provide a safe and nurturing environment for their students, their infrastructure is purposefully designed to be child-friendly with a set of safety protocols that their teachers follow dutifully. Parents are also well-informed of daily happenings as teachers maintain regular communication by providing frequent updates through the school's app.
Continuous Teacher & Curriculum Development
With the vision of nurturing children to become lifelong learners, Raffles Kidz International was established in 2013 by founder, Xiaobing Bai, and has since gained a reputation as a premium preschool brand with an array of industry accolades. Rather than relying on franchising for rapid expansion, Raffles Kidz International takes a long-term approach.
Recognizing the critical role that experienced teachers play in providing quality education to young children, they focus on building a core group of qualified teachers by ensuring they receive recognition for their work while providing regular opportunities for professional development to stay updated on the latest teaching methodologies and techniques. Their emphasis on professional development not only benefits teachers but also enhances the preschool's curriculum, as they regularly incorporate new teaching strategies and continually improve their preschool programs.
In the long run, this approach not only helps the preschool to build a reputation as a premium provider of early childhood education but also attracts new students and supports long-term growth. Catering to the holistic development of the whole child, their curriculum is designed to be immersive, bilingual, inquiry-based, and progressive, with an emphasis on academic foundation, critical thinking, knowledge acquisition, and problem-solving skills.
The school also offers enrichment programs, including music and movement, speech and drama, and Chinese language immersion, to help children develop their interests, creativity, and social skills. As they consistently strive to improve its educational offerings, Raffles Kidz International positions itself for continued success in the competitive early childhood education sector.
Commitment to Education and Community
Quality education is an investment that comes with its own considerations, as it may not align with everyone's expectations. Raffles Kidz International takes a focused approach by upholding high-quality standards in their preschools, appealing to parents who highly value quality education. This strategic approach allows the preschool to focus on upholding the standards of its programs and maintain a reputation as a leading provider of early childhood education.
By catering to parents who believe in quality education, Raffles Kidz International consistently delivers exceptional educational experiences that foster lifelong learning. In doing so, it sets itself apart from other preschools in the industry and reinforces its reputation as a premium early childhood education provider.
With a firm belief that quality education is important, Raffles Kidz International continually upgrades its infrastructure and creates innovative spaces that foster learning and exploration. These include social pods that encourage socializing and playgroup activities, as well as fun playground equipment like bicycle tracks and outdoor areas that stimulate children's engagement with the natural environment. Even during the COVID-19 circuit breaker period, they were able to respond quickly to the situation and create a conducive online learning environment for their children.
Besides providing a stimulating learning environment, the preschool also has taken various measures to ensure that children are safe and comfortable on its premises with child-friendly and age-appropriate facilities, and well-trained teachers and staff. Overall, Raffles Kidz International's investment in upgraded infrastructure and facilities with a team of qualified educators ensures that children learn in a safe, fun, and nurturing learning environment that encourages their growth and development.
Future Roadmap
Raffles Kidz International believes in providing a nurturing and holistic learning environment that sets the foundation for children's lifelong success. While embracing technology and e-learning platforms in their teaching strategies is a critical aspect of their future plans, their primary emphasis is on enhancing their teachers' capabilities to learn the most up-to-date teaching approaches and cater to the evolving needs of children. Additionally, the preschool also strives to upgrade its facilities continually, ensuring an optimal learning environment for the children in their care, and fostering a strong relationship with parents through continuous communication.
By focusing on these areas, Raffles Kidz Interna­tional can continue to deliver exceptional education­al experiences and set its students up for long-term success.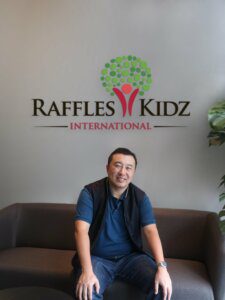 Xiaobing Bai, Founder
Xiaobing Bai is an accomplished entrepreneur with a proven track record of creating and developing successful businesses in the education and technology industry. Coming from a humble background and having graduated from the University of Oxford, followed by Harvard Business School for his MBA, he believes that good education can change a person's destiny. With the aim to help our young children become learners for life, Raffles Kidz International was founded in 2013 by Bai and has since become an established premium preschool brand that is recognized by industry leaders.
Originally published on Asia Business Outlook.