Ensuring a tip-top education system is core to Singapore's efforts in sustaining and strengthening its viability and relevance in the global economy. While preschool education is not compulsory for most countries across the globe, the Singapore government, however, recognises and acknowledges that the early years are crucial for children's holistic development. In consonance with this, Mr Xiaobing Bai, founder of Raffles Kidz International Pte Ltd, hence decided to set up his school in Singapore, and chose to name it after one of our founding fathers.
"It's at this age where you can achieve some form of self-actualization and discover your passions," says Mr Bai.
With the aim to help our young children become learners for life, Raffles Kidz International Pte Ltd was founded in 2013 by Mr Bai and has since become an established premium preschool brand. They provide a bilingual Montessori and inquiry-based curriculum delivered by experienced and well-trained educators with a desire to provide a quality and innovative learning environment for children.
Committed to providing a holistic education for the child to have the best head start in life, the children, parents and teachers work together as a community to shape the child's learning and development to instil confidence, intelligence and creativity with integrity. "We contribute to our community to maintain family and social harmony," he says.
The preschool brand has received several awards and accreditations alongside glowing testimonials from the parents of the children who have attended their school. For their dedication to their clients and their excellent business practices, they will be receiving the Singapore Prestige Class Award 2021/2022.
Moulding the Future
As someone from a humble family background, Mr Bai thinks he is a beneficiary of a good education which changed his destiny. He was born just when China had opened its doors to the world, and seeing the outside world consequently became his childhood's dream. After college, he went on to pursue his further studies at the University of Oxford, and later on to Harvard Business School for his MBA, all with scholarships. "It is the higher education in China and overseas that opened up a whole new world to me and inspired me deeply as a young man", said Mr Bai.
After working many years in banking, Mr Bai felt that he had been in his comfort zone for a long time and wanted to challenge himself to build a business under a brand that he could call his own. Wanting to make a difference for himself and towards the people around him, he said: "This may not be for everyone, but for some people, once they hit a certain age, they start to think about this."
There were a myriad of things that were available for him to pick from, and there were many unexplored passions that he had. Out of all the options that he considered, he settled for the education sector, mainly because of his two then 2-year-old twin boys at that time. "My wife and I were doing research on possible enrichment classes and schools for our kids," Mr Bai said, "and I was amazed to see how my kids learn and grow daily, and I personally enjoyed being involved with their learning activities". Once his two children were sent to preschool, he saw the potential for moulding children from a young age and how much more they could pick up in their early years. Another reason, of which a pivotal one, of why he chose the education industry to start his business was because he had personally experienced first-hand how education had positively impacted his very own growth. More importantly, he felt that education was a means to pass down his knowledge to the future generation, and is paramount in providing more opportunities to children, who are like clean sheets of paper, by guiding them towards a better future.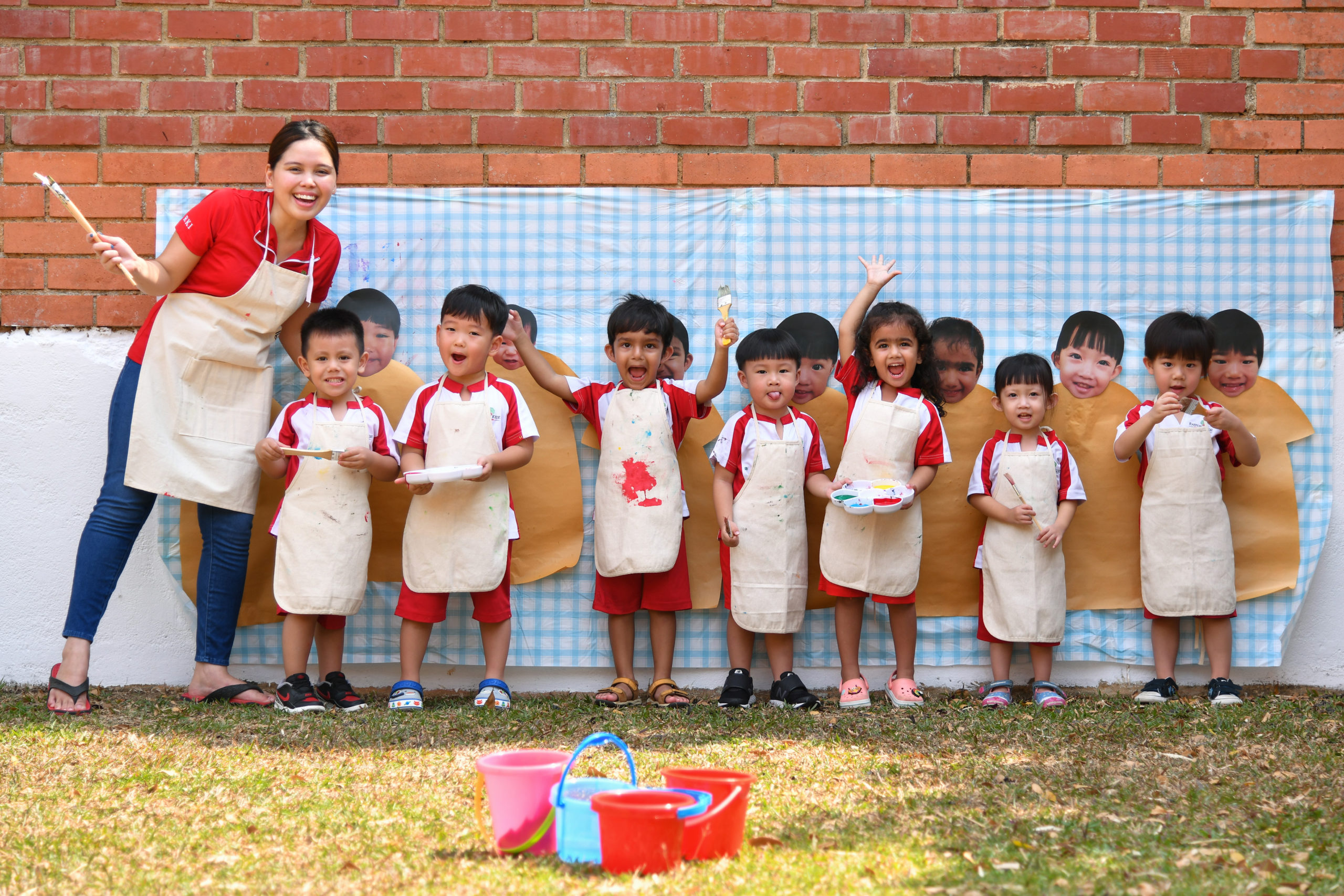 Teaching the Whole Child
Raffles Kidz is a preschool business that takes on the intake of children from as young as eighteen months to seven years of age. When it comes to preschool learning, it is increasingly important that both the family and the teachers can work together to shape the development of the child. Research has shown that early childhood education can play a critical role in laying the foundation for all learning and development over a child's lifetime. Therefore, in a developed economy, preschool education is becoming more popular, and, in some countries such as Singapore, it has even become mandatory as part of the education system.
Knowledge and skill, while important, is not the only factor that is important to a person's abilities. The emotional, social, and physical development of a child certainly has a direct impact on the adults they will ultimately become. With early childhood learning, children are able to develop qualities that are required to succeed in both academics and life, such as thinking, problem-solving, and communicating.
Mr Bai's vision for Raffles Kidz was to inspire children to develop their full potential. He feels that inspiration is the essence of good education and can give them a good head start in their life. "Education is a service, not a product," he says, "Quality control is critical and challenging when the business expands." The promise of high-quality education to the parents is something that Mr Bai takes very seriously. His teachers are all well-trained in knowledge and have great hands-on working experience, effectively allowing them to consistently provide the best quality of education to the children that are put under his care.
Moving Forward
In the next few years, he intends to build a system to ensure the quality delivery of education to the children under his care. For the organisation to grow, more skills need to be learned to make a bigger impact on both the expansion of the business and the people involved with the business. Currently, Raffles Kidz has four centres that enjoy a good reputation thanks to the parents that have supported them through the years. Mr Bai plans to develop Raffles Kidz into a space where parents can be actively involved in the future of their children. Ensuring that they always provide quality education for the children, the team at Raffles Kidz intends to do the best they can to serve both the parents and their children well. The Company has invested significantly to implement its customer relationship software and parent-school communication system to stay connected with parents closely and keep parents well informed and involved in their children's learning.

Secondly, Raffles Kidz continues to recruit, invest and groom their teachers and develop a local talent pool in hopes of expanding their operations and opening more centres across Singapore and becoming a meaningful player in the preschool sector in Singapore. They believe that people are the force behind the business growth and have been nurturing a learning culture within the organisation by encouraging teachers to upgrade and take new challenges. "You need to develop a deep bench for both mid-and upper-management in order to scale up a service business like education", as emphasised by Mr Bai.
Lastly, Mr Bai believes that innovation is the key to setting Raffles Kidz apart from competitors and driving the future growth of the business. Back in 2018, he had started to study and experiment with the online learning business model which had risen to popularity in China but was still rare in Singapore. He then subsequently assembled a small team to develop a proprietary online learning platform called EDOOVO for children aged three to eight. During the Covid-19 circuit break period when all the students had to stay at home and could not attend school physically, EDOOVO was timely launched to deliver real-time live lessons to all the children at Raffles Kidz, and this innovative online teaching was well-received and praised by parents. Since then, EDOOVO has grown into an online enrichment platform to teach children multiple core subjects such as English, Chinese and Math, with more than 1,000 students taught from Singapore and overseas markets.
With the continued support of our parents, Mr Bai and Raffles Kidz set to commit to their philosophy of educating the whole child to have the best head start in life, playing a part in moulding young minds into future leaders of tomorrow for both Singapore and globally for many years to come.
Originally published on www.visionawards.com.sg.